子宫内膜异位症的定义是子宫外存在子宫内膜样组织1。但这一定义未能涵盖该病在症状、病理生物学和多系统方面的复杂性质(图1)2。子宫内膜异位症的诊断主要是通过手术直接观察——最好是通过腹腔镜。治疗包括手术切除病变和激素药物治疗,这些治疗通常有副作用,并且疗效不一。2008年美国子宫内膜异位症的医疗费用约为每名患病女性4,000美元,与其他慢性病(如2型糖尿病、克罗恩病和类风湿关节炎)的费用相当3。而治疗症状(包括慢性盆腔疼痛、痛经、深部性交疼痛、排尿困难、大便困难、疲劳和不孕)所需的费用要高得多,因为这些症状影响身体、心理、性和社交健康及生产力4-6。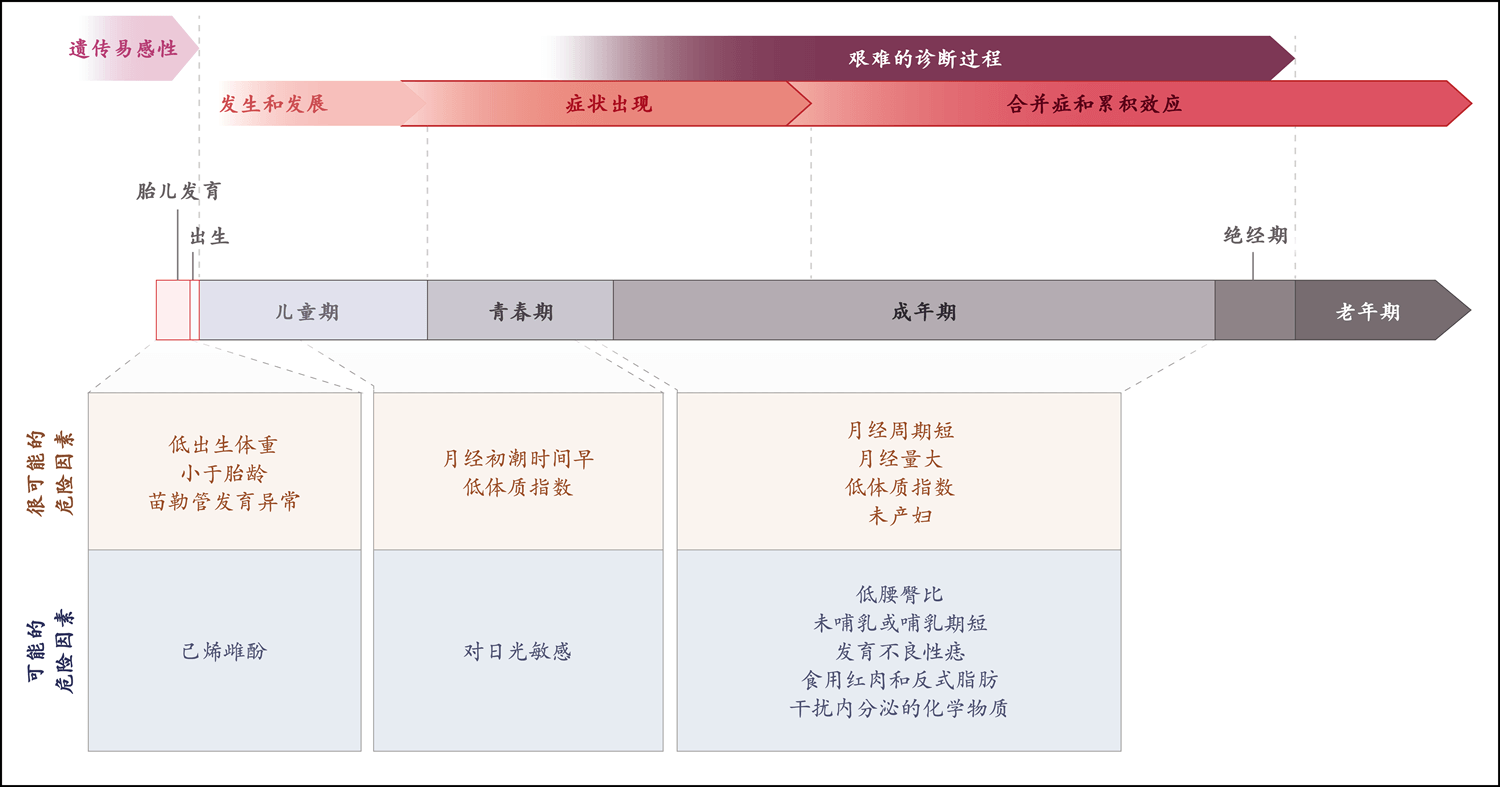 图1. 在整个生命过程中的子宫内膜异位症
虽然子宫内膜异位症的自然史尚未明确,但有新的证据提示,子宫内膜异位症有暴露和发展的关键时间窗口。因为与子宫内膜异位症相关的疼痛症状最常在青春期和青年期出现,所以子宫内膜异位症发生和发展的病理生理步骤必然在生命周期的更早期发生。目前已发现与子宫内膜异位症风险相关的基因位点;也有证据表明各生命阶段有特定的危险因素。在做出明确诊断之前,女性往往要忍受多年的症状,并且除了多系统合并症之外,对健康和生活质量的负面影响也会不断累积。
虽然子宫内膜异位症对女性、她们的家庭和经济有显著影响,但公众和专业人士对子宫内膜异位症的认识仍然很少3,7。我们在本文中讨论了子宫内膜异位症的流行病学、病理生理学、发病机制,以及诊断和治疗,重点说明了理解子宫内膜异位症的遗传起源将如何指导我们制定更好的诊断和治疗方案。
作者信息
Krina T. Zondervan, D.Phil., Christian M. Becker, M.D., and Stacey A. Missmer, Sc.D.
From the Endometriosis Care and Research (CaRe) Centre, Nuffield Department of Women's and Reproductive Health (K.T.Z., C.M.B.), and Wellcome Centre for Human Genetics (K.T.Z.), University of Oxford, John Radcliffe Hospital, Oxford, United Kingdom; the Division of Adolescent and Young Adult Medicine, Department of Medicine, Boston Children's Hospital and Harvard Medical School, Boston Center for Endometriosis, Boston Children's Hospital and Brigham and Women's Hospital, and the Department of Epidemiology, Harvard T.H. Chan School of Public Health — all in Boston (S.A.M.); and the Department of Obstetrics, Gynecology, and Reproductive Biology, College of Human Medicine, Michigan State University, Grand Rapids (S.A.M.). Address reprint requests to Dr. Zondervan at the Nuffield Department of Women's and Reproductive Health, University of Oxford Women's Centre, Level 3, John Radcliffe Hospital, Oxford OX3 9DU, United Kingdom, or at krina.zondervan@whr.ox.ac.uk.
参考文献
1. Zondervan KT, Becker CM, Koga K, Missmer SA, Taylor RN, Viganò P. Endometriosis. Nat Rev Dis Primers 2018;4:9-9.
2. Knapp VJ. How old is endometriosis? Late 17th- and 18th-century European descriptions of the disease. Fertil Steril 1999;72:10-14.
3. Simoens S, Dunselman G, Dirksen C, et al. The burden of endometriosis: costs and quality of life of women with endometriosis and treated in referral centres. Hum Reprod 2012;27:1292-1299.
4. Gallagher JS, DiVasta AD, Vitonis AF, Sarda V, Laufer MR, Missmer SA. The impact of endometriosis on quality of life in adolescents. J Adolesc Health 2018;63:766-772.
5. Nnoaham KE, Hummelshoj L, Webster P, et al. Impact of endometriosis on quality of life and work productivity: a multicenter study across ten countries. Fertil Steril 2011;96(2):366.e8-373.e8.
6. Rush G, Misajon R, Hunter JA, Gardner J, O'Brien KS. The relationship between endometriosis-related pelvic pain and symptom frequency, and subjective wellbeing. Health Qual Life Outcomes 2019;17:123-123.
7. Shah DK, Moravek MB, Vahratian A, Dalton VK, Lebovic DI. Public perceptions of endometriosis: perspectives from both genders. Acta Obstet Gynecol Scand 2010;89:646-650.
8. Shafrir AL, Farland LV, Shah DK, et al. Risk for and consequences of endometriosis: a critical epidemiologic review. Best Pract Res Clin Obstet Gynaecol 2018;51:1-15.
9. The World Bank. Population ages 15-64 (% of population). 2017 (https://data.worldbank.org/indicator/SP.POP.1564.TO.ZS. opens in new tab).
10. Agarwal SK, Chapron C, Giudice LC, et al. Clinical diagnosis of endometriosis: a call to action. Am J Obstet Gynecol 2019;220(4):354.e1-354.e12.
11. Schliep KC, Mumford SL, Peterson CM, et al. Pain typology and incident endometriosis. Hum Reprod 2015;30:2427-2438.
12. Laufer MR, Goitein L, Bush M, Cramer DW, Emans SJ. Prevalence of endometriosis in adolescent girls with chronic pelvic pain not responding to conventional therapy. J Pediatr Adolesc Gynecol 1997;10:199-202.
13. Hans Evers JLH. Is adolescent endometriosis a progressive disease that needs to be diagnosed and treated? Hum Reprod 2013;28:2023-2023.
14. Johnson NP, Hummelshoj L, Adamson GD, et al. World Endometriosis Society consensus on the classification of endometriosis. Hum Reprod 2017;32:315-324.
15. Holt VL, Weiss NS. Recommendations for the design of epidemiologic studies of endometriosis. Epidemiology 2000;11:654-659.
16. Carey ET, Till SR, As-Sanie S. Pharmacological management of chronic pelvic pain in women. Drugs 2017;77:285-301.
17. Berkley KJ, Rapkin AJ, Papka RE. The pains of endometriosis. Science 2005;308:1587-1589.
18. As-Sanie S, Kim J, Schmidt-Wilcke T, et al. Functional connectivity is associated with altered brain chemistry in women with endometriosis-associated chronic pelvic pain. J Pain 2016;17:1-13.
19. Caumo W, Deitos A, Carvalho S, et al. Motor cortex excitability and BDNF levels in chronic musculoskeletal pain according to structural pathology. Front Hum Neurosci 2016;10:357-357.
20. Prescott J, Farland LV, Tobias DK, et al. A prospective cohort study of endometriosis and subsequent risk of infertility. Hum Reprod 2016;31:1475-1482.
21. Kvaskoff M, Mu F, Terry KL, et al. Endometriosis: a high-risk population for major chronic diseases? Hum Reprod Update 2015;21:500-516.
22. Wang C, Liang Z, Liu X, Zhang Q, Li S. The association between endometriosis, tubal ligation, hysterectomy and epithelial ovarian cancer: meta-analyses. Int J Environ Res Public Health 2016;13(11):E1138-E1138.
23. Shigesi N, Kvaskoff M, Kirtley S, et al. The association between endometriosis and autoimmune diseases: a systematic review and meta-analysis. Hum Reprod Update 2019;25:486-503.
24. Sampson JA. Peritoneal endometriosis due to the menstrual dissemination of endometrial tissue into the peritoneal cavity. Am J Obstet Gynecol 1927;14:422-469.
25. Suda K, Nakaoka H, Yoshihara K, et al. Clonal expansion and diversification of cancer-associated mutations in endometriosis and normal endometrium. Cell Rep 2018;24:1777-1789.
26. Gargett CE, Schwab KE, Brosens JJ, Puttemans P, Benagiano G, Brosens I. Potential role of endometrial stem/progenitor cells in the pathogenesis of early-onset endometriosis. Mol Hum Reprod 2014;20:591-598.
27. Suginami H. A reappraisal of the coelomic metaplasia theory by reviewing endometriosis occurring in unusual sites and instances. Am J Obstet Gynecol 1991;165:214-218.
28. Jerman LF, Hey-Cunningham AJ. The role of the lymphatic system in endometriosis: a comprehensive review of the literature. Biol Reprod 2015;92:64-64.
29. Halme J, Hammond MG, Hulka JF, Raj SG, Talbert LM. Retrograde menstruation in healthy women and in patients with endometriosis. Obstet Gynecol 1984;64:151-154.
30. Han SJ, Jung SY, Wu S-P, et al. Estrogen receptor β modulates apoptosis complexes and the inflammasome to drive the pathogenesis of endometriosis. Cell 2015;163:960-974.
31. Santamaria X, Mas A, Cervelló I, Taylor H, Simon C. Uterine stem cells: from basic research to advanced cell therapies. Hum Reprod Update 2018;24:673-693.
32. Klemmt PAB, Carver JG, Koninckx P, McVeigh EJ, Mardon HJ. Endometrial cells from women with endometriosis have increased adhesion and proliferative capacity in response to extracellular matrix components: towards a mechanistic model for endometriosis progression. Hum Reprod 2007;22:3139-3147.
33. Symons LK, Miller JE, Kay VR, et al. The immunopathophysiology of endometriosis. Trends Mol Med 2018;24:748-762.
34. Bulun SE. Endometriosis. N Engl J Med 2009;360:268-279.
35. Bulun SE, Monsavais D, Pavone ME, et al. Role of estrogen receptor-β in endometriosis. Semin Reprod Med 2012;30:39-45.
36. Dyson MT, Roqueiro D, Monsivais D, et al. Genome-wide DNA methylation analysis predicts an epigenetic switch for GATA factor expression in endometriosis. PLoS Genet 2014;10(3):e1004158-e1004158.
37. Burney RO, Talbi S, Hamilton AE, et al. Gene expression analysis of endometrium reveals progesterone resistance and candidate susceptibility genes in women with endometriosis. Endocrinology 2007;148:3814-3826.
38. Vercellini P, Viganò P, Somigliana E, Fedele L. Endometriosis: pathogenesis and treatment. Nat Rev Endocrinol 2014;10:261-275.
39. Mu F, Harris HR, Rich-Edwards JW, et al. A prospective study of inflammatory markers and risk of endometriosis. Am J Epidemiol 2018;187:515-522.
40. Reis FM, Petraglia F, Taylor RN. Endometriosis: hormone regulation and clinical consequences of chemotaxis and apoptosis. Hum Reprod Update 2013;19:406-418.
41. Kang Y-J, Jeung IC, Park A, et al. An increased level of IL-6 suppresses NK cell activity in peritoneal fluid of patients with endometriosis via regulation of SHP-2 expression. Hum Reprod 2014;29:2176-2189.
42. Beste MT, Pfäffle-Doyle N, Prentice EA, et al. Molecular network analysis of endometriosis reveals a role for c-Jun-regulated macrophage activation. Sci Transl Med 2014;6:222ra16-222ra16.
43. Laux-Biehlmann A, d'Hooghe T, Zollner TM. Menstruation pulls the trigger for inflammation and pain in endometriosis. Trends Pharmacol Sci 2015;36:270-276.
44. Greaves E, Temp J, Esnal-Zufiurre A, Mechsner S, Horne AW, Saunders PTK. Estradiol is a critical mediator of macrophage-nerve cross talk in peritoneal endometriosis. Am J Pathol 2015;185:2286-2297.
45. Forster R, Sarginson A, Velichkova A, et al. Macrophage-derived insulin-like growth factor-1 is a key neurotrophic and nerve-sensitizing factor in pain associated with endometriosis. FASEB J 2019;33:11210-11222.
46. Saha R, Pettersson HJ, Svedberg P, et al. Heritability of endometriosis. Fertil Steril 2015;104:947-952.
47. Treloar SA, Wicks J, Nyholt DR, et al. Genomewide linkage study in 1,176 affected sister pair families identifies a significant susceptibility locus for endometriosis on chromosome 10q26. Am J Hum Genet 2005;77:365-376.
48. Ford D, Easton DF, Stratton M, et al. Genetic heterogeneity and penetrance analysis of the BRCA1 and BRCA2 genes in breast cancer families. Am J Hum Genet 1998;62:676-689.
49. Lee SH, Harold D, Nyholt DR, et al. Estimation and partitioning of polygenic variation captured by common SNPs for Alzheimer's disease, multiple sclerosis and endometriosis. Hum Mol Genet 2013;22:832-841.
50. Visscher PM, Wray NR, Zhang Q, et al. 10 Years of GWAS discovery: biology, function, and translation. Am J Hum Genet 2017;101:5-22.
51. Sapkota Y, Steinthorsdottir V, Morris AP, et al. Meta-analysis identifies five novel loci associated with endometriosis highlighting key genes involved in hormone metabolism. Nat Commun 2017;8:15539-15539.
52. Rahmioglu N, Banasik K, Christofidou P, et al. Large-scale genome-wide association meta-analysis of endometriosis reveals 13 novel loci and genetically-associated comorbidity with other pain conditions. bioRxiv. 2018 (https://www.biorxiv.org/content/10.1101/406967v1. opens in new tab).
53. Powell JE, Fung JN, Shakhbazov K, et al. Endometriosis risk alleles at 1p36.12 act through inverse regulation of CDC42 and LINC00339. Hum Mol Genet 2016;25:5046-5058.
54. Casper RF. New tools for enhancing collaborative endometriosis research. Fertil Steril 2014;102:1211-1212.
55. Wiegand KC, Shah SP, Al-Agha OM, et al. ARID1A mutations in endometriosis-associated ovarian carcinomas. N Engl J Med 2010;363:1532-1543.
56. Anglesio MS, Papadopoulos N, Ayhan A, et al. Cancer-associated mutations in endometriosis without cancer. N Engl J Med 2017;376:1835-1848.
57. Lac V, Nazeran TM, Tessier-Cloutier B, et al. Oncogenic mutations in histologically normal endometrium: the new normal? J Pathol 2019;249:173-181.
58. Mahajan A, Taliun D, Thurner M, et al. Fine-mapping type 2 diabetes loci to single-variant resolution using high-density imputation and islet-specific epigenome maps. Nat Genet 2018;50:1505-1513.
59. Michailidou K, Beesley J, Lindstrom S, et al. Genome-wide association analysis of more than 120,000 individuals identifies 15 new susceptibility loci for breast cancer. Nat Genet 2015;47:373-380.
60. Khera AV, Chaffin M, Aragam KG, et al. Genome-wide polygenic scores for common diseases identify individuals with risk equivalent to monogenic mutations. Nat Genet 2018;50:1219-1224.
61. Esserman LJ, WISDOM Study and Athena Investigators. The WISDOM Study: breaking the deadlock in the breast cancer screening debate. NPJ Breast Cancer 2017;3:34-34.
62. Nisenblat V, Bossuyt PMM, Shaikh R, et al. Blood biomarkers for the non-invasive diagnosis of endometriosis. Cochrane Database Syst Rev 2016;5:CD012179-CD012179.
63. Dunselman GA, Vermeulen N, Becker C, et al. ESHRE guideline: management of women with endometriosis. Hum Reprod 2014;29:400-412.
64. Nisenblat V, Bossuyt PMM, Farquhar C, Johnson N, Hull ML. Imaging modalities for the non-invasive diagnosis of endometriosis. Cochrane Database Syst Rev 2016;2:CD009591-CD009591.
65. Ballard K, Lowton K, Wright J. What's the delay? A qualitative study of women's experiences of reaching a diagnosis of endometriosis. Fertil Steril 2006;86:1296-1301.
66. Ballard KD, Seaman HE, de Vries CS, Wright JT. Can symptomatology help in the diagnosis of endometriosis? Findings from a national case-control study. BJOG 2008;115:1382-1391.
67. Nnoaham KE, Hummelshoj L, Kennedy SH, Jenkinson C, Zondervan KT. Developing symptom-based predictive models of endometriosis as a clinical screening tool: results from a multicenter study. Fertil Steril 2012;98(3):692.e5-701.e5.
68. Becker CM, Gattrell WT, Gude K, Singh SS. Reevaluating response and failure of medical treatment of endometriosis: a systematic review. Fertil Steril 2017;108:125-136.
69. Vercellini P, Buggio L, Berlanda N, Barbara G, Somigliana E, Bosari S. Estrogen-progestins and progestins for the management of endometriosis. Fertil Steril 2016;106(7):1552.e2-1571.e2.
70. Taylor HS, Giudice LC, Lessey BA, et al. Treatment of endometriosis-associated pain with elagolix, an oral GnRH antagonist. N Engl J Med 2017;377:28-40.
71. Ferrero S, Gillott DJ, Venturini PL, Remorgida V. Use of aromatase inhibitors to treat endometriosis-related pain symptoms: a systematic review. Reprod Biol Endocrinol 2011;9:89-89.
72. International Association for the Study of Pain. IASP statement on opioids. February 2018 (https://www.iasp-pain.org/Advocacy/Content.aspx?ItemNumber=7194. opens in new tab).
73. Horne AW, Daniels J, Hummelshoj L, Cox E, Cooper KG. Surgical removal of superficial peritoneal endometriosis for managing women with chronic pelvic pain: time for a rethink? BJOG 2019;126:1414-1416.
74. Whiteman MK, Hillis SD, Jamieson DJ, et al. Inpatient hysterectomy surveillance in the United States, 2000-2004. Am J Obstet Gynecol 2008;198(1):34.e1-34.e7.
75. Brandsborg B, Nikolajsen L. Chronic pain after hysterectomy. Curr Opin Anaesthesiol 2018;31:268-273.
76. Practice Committee of the American Society for Reproductive Medicine. Endometriosis and infertility: a committee opinion. Fertil Steril 2012;98:591-598.
77. Laschke MW, Menger MD. The gut microbiota: a puppet master in the pathogenesis of endometriosis? Am J Obstet Gynecol 2016;215(1):68.e1-68.e4.
78. Hirsch M, Duffy JMN, Barker C, et al. Protocol for developing, disseminating and implementing a core outcome set for endometriosis. BMJ Open 2016;6(12):e013998-e013998.