与20世纪90年代初的峰值相比,美国的前列腺癌死亡率已经从每10万名男性中39例下降至每10万名男性中19例,基本上下降了一半。虽然所有人都认为死亡率下降是好消息,但在死亡率下降的原因方面却有很大分歧。这一争论对于前列腺特异性抗原(PSA)筛查的未来具有深远意义。
图1A绘制了自1950年以来,在癌症相关死因中,三种常见死因患者的癌症特异性死亡率的长期趋势。肺癌死亡率是癌症相关死亡率的最大组成部分,其大幅上升和下降反映了几十年前吸烟率的上升和下降。相比之下,乳腺癌死亡率在1990年之前非常稳定,之后开始下降。前列腺癌死亡率在1970年之前也很稳定,并且从20世纪90年代初开始下降。但在中间的这20多年却有所增加。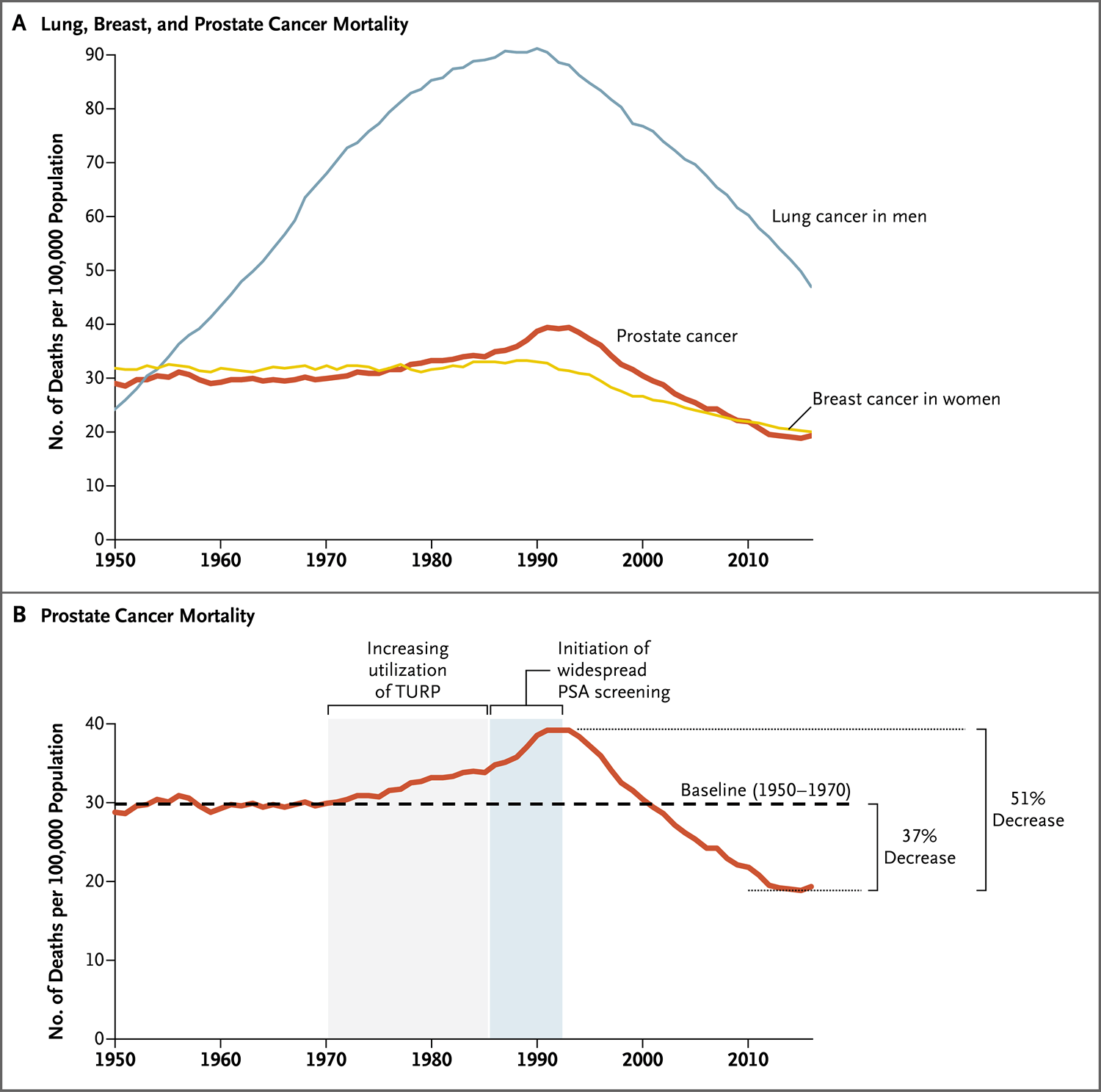 图1. 1950—2016年的美国前列腺癌死亡率
作为背景资料,图A显示了肺癌(男性)和乳腺癌(女性)死亡率。图B显示了1950—1970年稳定的基线前列腺癌死亡率,以及之后最有可能影响所报告死亡率的系统性暴露。所有比率均根据美国2000年标准人口进行了年龄校正。PSA表示前列腺特异性抗原,TURP表示经尿道前列腺切除术。
死亡率增加的可能原因如图1B所示。在20世纪70年代和80年代初,泌尿科医师为了治疗老年男性的良性前列腺肥大而实施的经尿道前列腺切除术(TURP)越来越多。随着送到病理科的前列腺切除标本的增多,偶然检出的前列腺癌也增多,因此(被发现的)前列腺癌的发病率逐渐上升。到1986年时,有一半前列腺癌是通过TURP检出1。在老年男性这一死亡相对常见的年龄组中,前列腺癌诊断率的提高导致了更多的死亡被归因于前列腺癌,这一现象被称为黏性诊断偏倚(sticky diagnosis bias)2。
作者信息
H. Gilbert Welch, M.D., M.P.H., and Peter C. Albertsen, M.D.
From the Center for Surgery and Public Health, Brigham and Women's Hospital, Boston (H.G.W.); and the Division of Urology, Department of Surgery, University of Connecticut Health Center, Farmington (P.C.A.).
参考文献
1. Merrill RM, Feuer EJ, Warren JL, Schussler N, Stephenson RA. Role of transurethral resection of the prostate in population-based prostate cancer incidence rates. Am J Epidemiol 1999;150:848-860.
2. Black WC, Haggstrom DA, Welch HG. All-cause mortality in randomized trials of cancer screening. J Natl Cancer Inst 2002;94:167-173.
3. Feuer EJ, Merrill RM, Hankey BF. Cancer surveillance series: interpreting trends in prostate cancer — part II: cause of death misclassification and the recent rise and fall in prostate cancer mortality. J Natl Cancer Inst 1999;91:1025-1032.
4. Potosky AL, Miller BA, Albertsen PC, Kramer BS. The role of increasing detection in the rising incidence of prostate cancer. JAMA 1995;273:548-552.
5. Welch HG, Barry MJ, Black WC, Song Y, Fisher ES. The effect of treatment-related deaths and "sticky" diagnoses on recorded prostate cancer mortality (https://arxiv.org/abs/2001.00492. opens in new tab).
6. Sakr WA, Grignon DJ, Haas GP, Heilbrun LK, Pontes JE, Crissman JD. Age and racial distribution of prostatic intraepithelial neoplasia. Eur Urol 1996;30:138-144.
7. Thompson IM, Goodman PJ, Tangen CM, et al. The influence of finasteride on the development of prostate cancer. N Engl J Med 2003;349:215-224.
8. Mahal BA, Yang DD, Sweeney C, Trinh QD, Feng FY, Nguyen PL. Identification of low prostate-specific antigen, high Gleason prostate cancer as a unique hormone-resistant entity with poor survival: a contemporary analysis of over 600,000 patients. Int J Radiat Oncol Biol Phys 2017;99(2):Suppl:S133-S133. abstract.
9. Schröder FH, Hugosson J, Roobol MJ, et al. Screening and prostate cancer mortality: results of the European Randomised Study of Screening for Prostate Cancer (ERSPC) at 13 years of follow-up. Lancet 2014;384:2027-2035.
10. Pinsky PF, Prorok PC, Yu K, et al. Extended mortality results for prostate cancer screening in the PLCO trial with median follow-up of 15 years. Cancer 2017;123:592-599.
11. Martin RM, Donovan JL, Turner EL, et al. Effect of a low-intensity PSA-based screening intervention on prostate cancer mortality: the CAP randomized clinical trial. JAMA 2018;319:883-895.
12. Wilt TJ, Brawer MK, Jones KM, et al. Radical prostatectomy versus observation for localized prostate cancer. N Engl J Med 2012;367:203-213.
13. Hamdy FC, Donovan JL, Lane JA, et al. 10-Year outcomes after monitoring, surgery, or radiotherapy for localized prostate cancer. N Engl J Med 2016;375:1415-1424.
14. Painter MR. Reimbursement issues with hormonal therapies for prostate cancer. Rev Urol 2005;7:Suppl 5:S44-7.
15. Liu F, Sun D, Zhou X, et al. Effect of adjuvant hormone therapy in patients with prostate cancer: a meta-analysis of randomized controlled trials. Medicine (Baltimore) 2018;97(50):e13145-e13145.
16. Welch HG, Gorski DH, Albertsen PC. Trends in metastatic breast and prostate cancer — lessons in cancer dynamics. N Engl J Med 2015;373:1685-1687.
17. Corcos D, Bleyer A. Epidemiologic signatures in cancer. N Engl J Med 2020;382:96-96.
18. Welch HG, Albertsen PC. Prostate cancer diagnosis and treatment after the introduction of prostate-specific antigen screening: 1986-2005. J Natl Cancer Inst 2009;101:1325-1329.
19. Shaukat A, Mongin SJ, Geisser MS, et al. Long-term mortality after screening for colorectal cancer. N Engl J Med 2013;369:1106-1114.
20. SEER Cancer Statistics Review 1975-2016. Table 1.13: Median age of cancer patients at death, 2012-2016 (https://seer.cancer.gov/csr/1975_2016/browse_csr.php?sectionSEL=1&pageSEL=sect_01_table.13. opens in new tab).
21. Welch HG, Albertsen PC, Nease RF, Bubolz TA, Wasson JH. Estimating treatment benefits for the elderly: the effect of competing risks. Ann Intern Med 1996;124:577-584.
22. Pauker SG, Kassirer JP. The threshold approach to clinical decision making. N Engl J Med 1980;302:1109-1117.
23. Welch HG, Schwartz LM, Woloshin S. Prostate-specific antigen levels in the United States: implications of various definitions for abnormal. J Natl Cancer Inst 2005;97:1132-1137.