免疫治疗增强了患者用于抵抗疾病的免疫系统的功能。近期,免疫治疗已经成为很有前景的新型癌症治疗方法。在众多免疫治疗策略中,免疫检查点阻断在多种类型癌症的治疗中显示出非凡益处。免疫检查点阻断通过阻断内源性的免疫下调因子(例如细胞毒性T淋巴细胞抗原-4[CTLA-4]和程序性死亡蛋白-1[PD-1]或其配体——程序性死亡蛋白配体-1[PD-L1])而增强抗肿瘤免疫应答。多种直接针对免疫检查点的抗体可使各种癌症患者的总生存期得以延长,并获得了美国食品药品监督管理局(表1)的批准。
表1. 美国食品药品监督管理局批准的免疫检查点阻断抗体*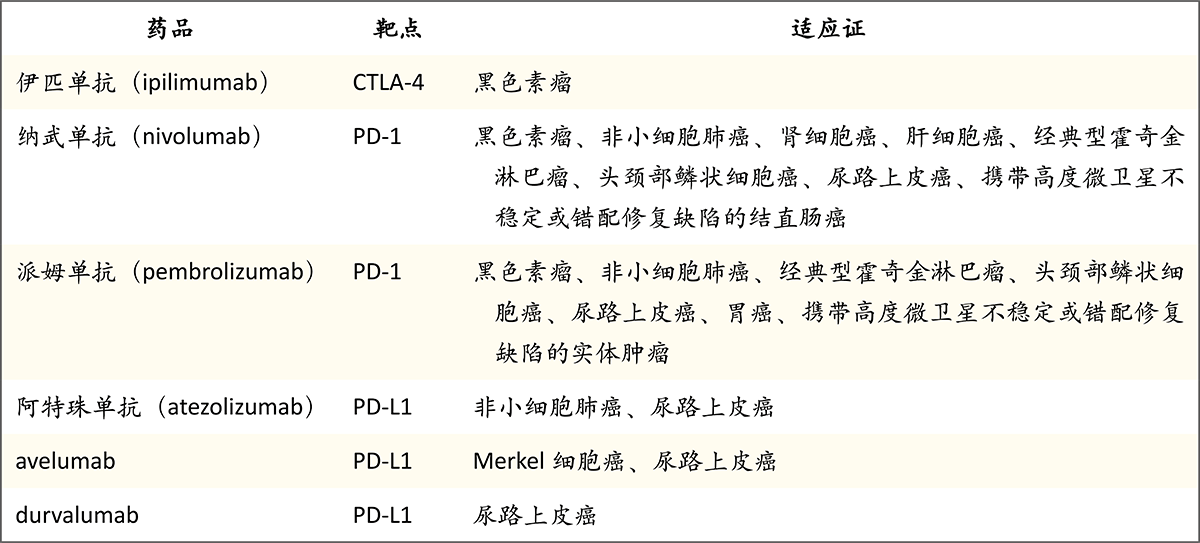 * CTLA-4表示细胞毒性T淋巴细胞抗原4,PD-1表示程序性死亡蛋白-1,PD-L1表示程序性死亡蛋白配体-1。
免疫检查点阻断可以通过增强免疫系统的活性而引起炎症副作用,这些副作用常被称为免疫相关不良事件。尽管任何器官系统都可能受到影响,但免疫相关不良事件最常累及胃肠道、内分泌腺、皮肤和肝脏1。中枢神经系统和心血管系统、肺、肌肉骨骼系统以及血液系统也可受累,但与前几个系统器官相比受累较少。潜在的免疫相关不良事件的范围广泛,需要各个临床科室的医护人员进行多学科协作处理(图1)。
图1. 免疫检查点阻断所影响的器官
免疫检查点阻断可导致任何器官的炎症反应。图中显示了临床医师在接受免疫检查点阻断治疗的患者中最常观察到的免疫相关不良事件。
关于特定的免疫相关不良事件的有效处理策略,目前尚缺乏前瞻性临床试验对此加以制定;因此,临床处理方法多种多样。尽管如此,一些专业组织正在努力工作,以便制定有关特定免疫相关不良事件处理方案的专家共识。在本综述中,我们着重讨论医护人员将面临的10个基本问题;接受免疫检查点阻断治疗的肿瘤患者数量越来越多,而这10个问题是医护人员在治疗这些患者时将要面对的问题(表2)。
表2. 接受免疫检查点阻断治疗的患者中,与免疫相关不良事件的处理有关的10个问题
作者信息
Michael A. Postow, M.D., Robert Sidlow, M.D., and Matthew D. Hellmann, M.D.
From Memorial Sloan Kettering Cancer Center and Weill Cornell Medical College, New York. Address reprint requests to Dr. Postow at 300 East 66th St., New York, NY 10065, or atpostowm@mskcc.org.
参考文献
1. Weber JS, Hodi FS, Wolchok JD, et al. Safety profile of nivolumab monotherapy: a pooled analysis of patients with advanced melanoma. J Clin Oncol 2017;35:785-792
2. Krummel MF, Allison JP. CTLA-4 engagement inhibits IL-2 accumulation and cell cycle progression upon activation of resting T cells. J Exp Med 1996;183:2533-2540
3. Dong H, Strome SE, Salomao DR, et al. Tumor-associated B7-H1 promotes T-cell apoptosis: a potential mechanism of immune evasion. Nat Med 2002;8:793-800
4. Boussiotis VA. Molecular and biochemical aspects of the PD-1 checkpoint pathway. N Engl J Med 2016;375:1767-1778
5. Tivol EA, Borriello F, Schweitzer AN, Lynch WP, Bluestone JA, Sharpe AH. Loss of CTLA-4 leads to massive lymphoproliferation and fatal multiorgan tissue destruction, revealing a critical negative regulatory role of CTLA-4. Immunity 1995;3:541-547
6. Waterhouse P, Penninger JM, Timms E, et al. Lymphoproliferative disorders with early lethality in mice deficient in Ctla-4. Science 1995;270:985-988
7. Nishimura H, Nose M, Hiai H, Minato N, Honjo T. Development of lupus-like autoimmune diseases by disruption of the PD-1 gene encoding an ITIM motif-carrying immunoreceptor. Immunity 1999;11:141-151
8. Robert C, Schachter J, Long GV, et al. Pembrolizumab versus ipilimumab in advanced melanoma. N Engl J Med 2015;372:2521-2532
9. Larkin J, Chiarion-Sileni V, Gonzalez R, et al. Combined nivolumab and ipilimumab or monotherapy in untreated melanoma. N Engl J Med 2015;373:23-34
10. Khoja LDD, Wei-Wu Chen T, Siu LL, Hansen AR. Tumour- and class-specific patterns of immune-related adverse events of immune checkpoint inhibitors: a systematic review. Ann Oncol 2017;28:2377-2385
11. Abdel-Rahman O, ElHalawani H, Fouad M. Risk of endocrine complications in cancer patients treated with immune check point inhibitors: a meta-analysis. Future Oncol 2016;12:413-425
12. Naidoo J, Wang X, Woo KM, et al. Pneumonitis in patients treated with anti-programmed death-1/programmed death ligand 1 therapy. J Clin Oncol 2017;35:709-717
13. Morganstein DL, Lai Z, Spain L, et al. Thyroid abnormalities following the use of cytotoxic T-lymphocyte antigen-4 and programmed death receptor protein-1 inhibitors in the treatment of melanoma. Clin Endocrinol (Oxf) 2017;86:614-620
14. Osorio JC, Ni A, Chaft JE, et al. Antibody-mediated thyroid dysfunction during T-cell checkpoint blockade in patients with non-small-cell lung cancer. Ann Oncol 2017;28:583-589
15. Iwama S, De Remigis A, Callahan MK, Slovin SF, Wolchok JD, Caturegli P. Pituitary expression of CTLA-4 mediates hypophysitis secondary to administration of CTLA-4 blocking antibody. Sci Transl Med 2014;6:230ra45-230ra45
16. Caturegli P, Di Dalmazi G, Lombardi M, et al. Hypophysitis secondary to cytotoxic T-lymphocyte-associated protein 4 blockade: insights into pathogenesis from an autopsy series. Am J Pathol 2016;186:3225-3235
17. Johnson DB, Balko JM, Compton ML, et al. Fulminant myocarditis with combination immune checkpoint blockade. N Engl J Med 2016;375:1749-1755
18. Byrne EH, Fisher DE. Immune and molecular correlates in melanoma treated with immune checkpoint blockade. Cancer 2017;123:S11:2143-2153
19. Callahan M, et al. Evaluation of serum IL-17 levels during ipilimumab therapy: correlation with colitis. J Clin Oncol 2011;29:Suppl:2505-2505. abstract.
20. Harbour SN, Maynard CL, Zindl CL, Schoeb TR, Weaver CT. Th17 cells give rise to Th1 cells that are required for the pathogenesis of colitis. Proc Natl Acad Sci U S A 2015;112:7061-7066
21. Esfahani K, Miller WH Jr. Reversal of autoimmune toxicity and loss of tumor response by interleukin-17 blockade. N Engl J Med 2017;376:1989-1991
22. Langley RG, Elewski BE, Lebwohl M, et al. Secukinumab in plaque psoriasis — results of two phase 3 trials. N Engl J Med 2014;371:326-338
23. Weber JS, Yang JC, Atkins MB, Disis ML. Toxicities of immunotherapy for the practitioner. J Clin Oncol 2015;33:2092-2099
24. Friedman CF, Proverbs-Singh TA, Postow MA. Treatment of the immune-related adverse effects of immune checkpoint inhibitors: a review. JAMA Oncol 2016;2:1346-1353
25. Boutros C, Tarhini A, Routier E, et al. Safety profiles of anti-CTLA-4 and anti-PD-1 antibodies alone and in combination. Nat Rev Clin Oncol 2016;13:473-486
26. Haanen JBAG, Carbonnel F, Robert C, et al. Management of toxicities from immunotherapy: ESMO Clinical Practice Guidelines for diagnosis, treatment and follow-up. Ann Oncol 2017;28:Suppl 4:iv119-iv142
27. Yanai S, Nakamura S, Matsumoto T. Nivolumab-induced colitis treated by infliximab. Clin Gastroenterol Hepatol 2017;15:e80-e81
28. Bergqvist V, Hertervig E, Gedeon P, et al. Vedolizumab treatment for immune checkpoint inhibitor-induced enterocolitis. Cancer Immunol Immunother 2017;66:581-592
29. Weber JS, Kähler KC, Hauschild A. Management of immune-related adverse events and kinetics of response with ipilimumab. J Clin Oncol 2012;30:2691-2697
30. Topalian SL, Sznol M, McDermott DF, et al. Survival, durable tumor remission, and long-term safety in patients with advanced melanoma receiving nivolumab. J Clin Oncol 2014;32:1020-1030
31. Renton AE, Pliner HA, Provenzano C, et al. A genome-wide association study of myasthenia gravis. JAMA Neurol 2015;72:396-404
32. Dittmar M, Kahaly GJ. Immunoregulatory and susceptibility genes in thyroid and polyglandular autoimmunity. Thyroid 2005;15:239-250
33. Yanagawa T, Hidaka Y, Guimaraes V, Soliman M, DeGroot LJ. CTLA-4 gene polymorphism associated with Graves' disease in a Caucasian population. J Clin Endocrinol Metab 1995;80:41-45
34. Brewerton DA, Caffrey M, Nicholls A, Walters D, Oates JK, James DC. Reiter's disease and HL-A 27. Lancet 1973;302:996-998
35. Wolchok JD, Weber JS, Hamid O, et al. Ipilimumab efficacy and safety in patients with advanced melanoma: a retrospective analysis of HLA subtype from four trials. Cancer Immun 2010;10:9-9
36. Vétizou M, Pitt JM, Daillère R, et al. Anticancer immunotherapy by CTLA-4 blockade relies on the gut microbiota. Science 2015;350:1079-1084
37. Sivan A, Corrales L, Hubert N, et al. Commensal Bifidobacterium promotes antitumor immunity and facilitates anti-PD-L1 efficacy. Science 2015;350:1084-1089
38. Chaput N, Lepage P, Coutzac C, et al. Baseline gut microbiota predicts clinical response and colitis in metastatic melanoma patients treated with ipilimumab. Ann Oncol 2017;28:1368-1379
39. Dubin K, Callahan MK, Ren B, et al. Intestinal microbiome analyses identify melanoma patients at risk for checkpoint-blockade-induced colitis. Nat Commun 2016;7:10391-10391
40. Attia P, Phan GQ, Maker AV, et al. Autoimmunity correlates with tumor regression in patients with metastatic melanoma treated with anti-cytotoxic T-lymphocyte antigen-4. J Clin Oncol 2005;23:6043-6053
41. Downey SG, Klapper JA, Smith FO, et al. Prognostic factors related to clinical response in patients with metastatic melanoma treated by CTL-associated antigen-4 blockade. Clin Cancer Res 2007;13:6681-6688
42. Horvat TZ, Adel NG, Dang TO, et al. Immune-related adverse events, need for systemic immunosuppression, and effects on survival and time to treatment failure in patients with melanoma treated with ipilimumab at Memorial Sloan Kettering Cancer Center. J Clin Oncol 2015;33:3193-3198
43. Hua C, Boussemart L, Mateus C, et al. Association of vitiligo with tumor response in patients with metastatic melanoma treated with pembrolizumab. JAMA Dermatol 2016;152:45-51
44. Teulings HE, Limpens J, Jansen SN, et al. Vitiligo-like depigmentation in patients with stage III-IV melanoma receiving immunotherapy and its association with survival: a systematic review and meta-analysis. J Clin Oncol 2015;33:773-781
45. Burdick KH, Hawk WA. Vitiligo in a case of vaccinia virus-treated melanoma. Cancer 1964;17:708-712
46. Carli L, Tani C, Querci F, et al. Analysis of the prevalence of cataracts and glaucoma in systemic lupus erythematosus and evaluation of the rheumatologists' practice for the monitoring of glucocorticoid eye toxicity. Clin Rheumatol 2013;32:1071-1073
47. Huscher D, Thiele K, Gromnica-Ihle E, et al. Dose-related patterns of glucocorticoid-induced side effects. Ann Rheum Dis 2009;68:1119-1124
48. Kyi C, Hellmann MD, Wolchok JD, Chapman PB, Postow MA. Opportunistic infections in patients treated with immunotherapy for cancer. J Immunother Cancer 2014;2:19-19
49. Arriola E, Wheater M, Krishnan R, Smart J, Foria V, Ottensmeier C. Immunosuppression for ipilimumab-related toxicity can cause pneumocystis pneumonia but spare antitumor immune control. Oncoimmunology 2015;4:e1040218-e1040218
50. Uslu U, Agaimy A, Hundorfean G, Harrer T, Schuler G, Heinzerling L. Autoimmune colitis and subsequent CMV-induced hepatitis after treatment with ipilimumab. J Immunother 2015;38:212-215
51. Del Castillo M, Romero FA, Argüello E, Kyi C, Postow MA, Redelman-Sidi G. The spectrum of serious infections among patients receiving immune checkpoint blockade for the treatment of melanoma. Clin Infect Dis 2016;63:1490-1493
52. National Comprehensive Cancer Network. Prevention and treatment of cancer-related infections, version 1.2018, December 1, 2017 (http://www.nccn.org/professionals/physician_gls/pdf/infections.pdf).
53. Menzies AM, Johnson DB, Ramanujam S, et al. Anti-PD-1 therapy in patients with advanced melanoma and preexisting autoimmune disorders or major toxicity with ipilimumab. Ann Oncol 2017;28:368-376
54. Santini F, Rizvi H, Wilkins O, van Voorthuysen M, Panora E, Halpenny D, et al. Safety of retreatment with immunotherapy after immune-related toxicity in patients with lung cancers treated with anti-PD(L)-1 therapy. J Clin Oncol 2017;35:Suppl:2012. abstract.-2012. abstract.
55. Schadendorf D, Wolchok JD, Hodi FS, et al. Efficacy and safety outcomes in patients with advanced melanoma who discontinued treatment with nivolumab and ipilimumab because of adverse events: a pooled analysis of randomized phase II and III trials. J Clin Oncol 2017;35:3807-3814
56. Johnson DB, Sullivan RJ, Menzies AM. Immune checkpoint inhibitors in challenging populations. Cancer 2017;123:1904-1911
57. Johnson DB, Sullivan RJ, Ott PA, et al. Ipilimumab therapy in patients with advanced melanoma and preexisting autoimmune disorders. JAMA Oncol 2016;2:234-240
58. Spain L, Higgins R, Gopalakrishnan K, Turajlic S, Gore M, Larkin J. Acute renal allograft rejection after immune checkpoint inhibitor therapy for metastatic melanoma. Ann Oncol 2016;27:1135-1137
59. Morales RE, Shoushtari AN, Walsh MM, Grewal P, Lipson EJ, Carvajal RD. Safety and efficacy of ipilimumab to treat advanced melanoma in the setting of liver transplantation. J Immunother Cancer 2015;3:22-22
60. Lipson EJ, Bagnasco SM, Moore J Jr, et al. Tumor regression and allograft rejection after administration of anti–PD-1. N Engl J Med 2016;374:896-898
61. Owonikoko TK, Kumar M, Yang S, et al. Cardiac allograft rejection as a complication of PD-1 checkpoint blockade for cancer immunotherapy: a case report. Cancer Immunol Immunother 2017;66:45-50
62. Bashey A, Medina B, Corringham S, et al. CTLA4 blockade with ipilimumab to treat relapse of malignancy after allogeneic hematopoietic cell transplantation. Blood 2009;113:1581-1588
63. Ding W, LaPlant BR, Call TG, et al. Pembrolizumab in patients with CLL and Richter transformation or with relapsed CLL. Blood 2017;129:3419-3427
64. Lesokhin AM, Ansell SM, Armand P, et al. Nivolumab in patients with relapsed or refractory hematologic malignancy: preliminary results of a phase Ib study. J Clin Oncol 2016;34:2698-2704
65. Younes A, Santoro A, Shipp M, et al. Nivolumab for classical Hodgkin's lymphoma after failure of both autologous stem-cell transplantation and brentuximab vedotin: a multicentre, multicohort, single-arm phase 2 trial. Lancet Oncol 2016;17:1283-1294
66. El-Khoueiry AB, Sangro B, Yau T, et al. Nivolumab in patients with advanced hepatocellular carcinoma (CheckMate 040): an open-label, non-comparative, phase 1/2 dose escalation and expansion trial. Lancet 2017;389:2492-2502
67. Davar D, Wilson M, Pruckner C, Kirkwood JM. PD-1 blockade in advanced melanoma in patients with hepatitis C and/or HIV. Case Rep Oncol Med 2015;2015:737389-737389
68. Wightman F, Solomon A, Kumar SS, et al. Effect of ipilimumab on the HIV reservoir in an HIV-infected individual with metastatic melanoma. AIDS 2015;29:504-506
69. Burke MM, Kluger HM, Golden M, Heller KN, Hoos A, Sznol M. Case report: response to ipilimumab in a patient with HIV with metastatic melanoma. J Clin Oncol 2011;29:e792-e794
70. Balar AV, Galsky MD, Rosenberg JE, et al. Atezolizumab as first-line treatment in cisplatin-ineligible patients with locally advanced and metastatic urothelial carcinoma: a single-arm, multicentre, phase 2 trial. Lancet 2017;389:67-76
71. Kanz BA, Pollack MH, Johnpulle R, et al. Safety and efficacy of anti-PD-1 in patients with baseline cardiac, renal, or hepatic dysfunction. J Immunother Cancer 2016;4:60-60
72. Betof AS, Nipp RD, Giobbie-Hurder A, et al. Impact of age on outcomes with immunotherapy for patients with melanoma. Oncologist 2017;22:963-971
73. Nishijima TF, Muss HB, Shachar SS, Moschos SJ. Comparison of efficacy of immune checkpoint inhibitors (ICIs) between younger and older patients: a systematic review and meta-analysis. Cancer Treat Rev 2016;45:30-37
74. Johnpulle RA, Conry RM, Sosman JA, Puzanov I, Johnson DB. Responses to immune checkpoint inhibitors in nonagenarians. Oncoimmunology 2016;5:e1234572-e1234572
75. Reck M, Rodríguez-Abreu D, Robinson AG, et al. Pembrolizumab versus chemotherapy for PD-L1–positive non–small-cell lung cancer. N Engl J Med 2016;375:1823-1833
76. Robert C, Long GV, Brady B, et al. Nivolumab in previously untreated melanoma without BRAF mutation. N Engl J Med 2015;372:320-330