癌症筛查和早期检测的进展、治疗方法的改进以及支持性治疗均促进了癌症死亡率的降低。图1显示了从1975年至2040年,癌症人群人口统计学特征的变化。2040年估计将有2,600万名癌症生存者,其中大多数为60多岁、70多岁或80多岁1。几乎每一名医务人员都会遇到癌症生存者。本综述主要针对初级保健医师、妇产科医师、中级医务人员和患者为癌症生存者的专科医师。对于外科医师、放射治疗医师和可能不熟悉癌症生存这一广泛主题的肿瘤内科医师,本综述也可作为入门文章。目前,癌症生存者的照护往往是事后想法,常常零散残缺,没有很好地融入癌症治疗的主流。此外,生存者的最佳照护模式仍未确定。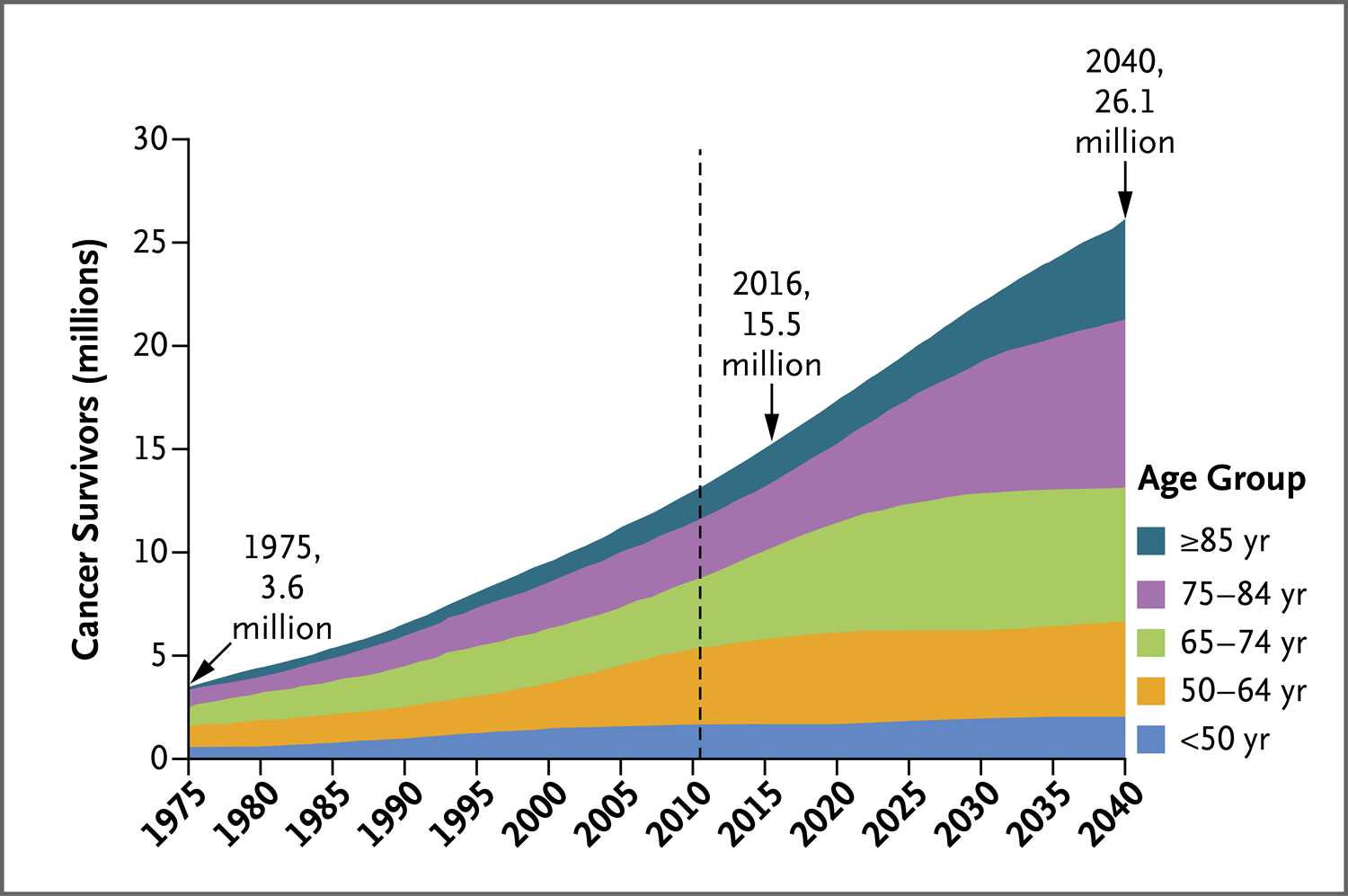 图1. 美国癌症生存者的人口统计学特征变化
图中显示的是从1975年至2040年,按年龄组别划分的癌症生存者人数,1975年时有360万名癌症生存者,预计到2040年将有2,610万名生存者。2011年的垂直虚线显示的是第一批婴儿潮(1946—1964年出生的人口)达到65岁的年份。数据来自Bluethmann等的论文1。
根据美国国立癌症研究所癌症生存办公室(Office of Cancer Survivorship)2和其他组织(例如美国疾病控制与预防中心和美国全国癌症生存联盟[National Coalition for Cancer Survivorship])观点,癌症生存从诊断时开始,并持续整个生命期。这一整体定义鼓励临床医师将生存者照护视为癌症治疗连续统一体的一个组成部分。生存者的定义中包括家庭成员、朋友和照护人员。包括这些人的主要原因是,在大多数情况下,患者并非独自经历癌症。照护人员是无名英雄,为癌症生存者提供身体和精神上的支持。认识到对照护人员健康的不良影响和情绪损害是这一广义生存定义的一部分。
美国国家科学院、工程院和医学院在一份具有里程碑意义的出版物中确定了生存者照护的要点3,这些要点在美国临床肿瘤学会(American Society of Clinical Oncology,ASCO)癌症生存教育核心课程中得到了扩展4。下面对这些报告中阐明的主题进行回顾。
作者信息
Charles L. Shapiro, M.D.
From the Icahn School of Medicine at Mount Sinai Uptown, New York. Address reprint requests to Dr. Shapiro at the Icahn School of Medicine, 1 Gustave L. Levy Pl., Box 1079, New York, NY 10029, or at charles.shapiro@mssm.edu.
参考文献
1. Bluethmann SM, Mariotto AB, Rowland JH. Anticipating the "silver tsunami": prevalence trajectories and comorbidity burden among older cancer survivors in the United States. Cancer Epidemiol Biomarkers Prev 2016;25:1029-1036.
2. National Cancer Institute. Office of Cancer Survivorship (http://cancercontrol.cancer.gov/ocs/).
3. Hewitt MGS, Ganz PA, eds. From cancer patient to cancer survivor: lost in translation. Washington, DC: National Academies Press, 2006.
4. Shapiro CL, Jacobsen PB, Henderson T, et al. ReCAP: ASCO core curriculum for cancer survivorship education. J Oncol Pract 2016;12(2):145, e108-e117.
5. Nekhlyudov L, Lacchetti C, Davis NB, et al. Head and neck cancer survivorship care guideline: American Society of Clinical Oncology clinical practice guideline endorsement of the American Cancer Society guideline. J Clin Oncol 2017;35:1606-1621.
6. Runowicz CD, Leach CR, Henry NL, et al. American Cancer Society/American Society of Clinical Oncology breast cancer survivorship care guideline. J Clin Oncol 2016;34:611-635.
7. Resnick MJ, Lacchetti C, Bergman J, et al. Prostate cancer survivorship care guideline: American Society of Clinical Oncology clinical practice guideline endorsement. J Clin Oncol 2015;33:1078-1085.
8. Denlinger CS, Sanft T, Baker KS, et al. Survivorship, version 2.2017, NCCN clinical practice guidelines in oncology. J Natl Compr Canc Netw 2017;15:1140-1163.
9. Smith RA, Andrews KS, Brooks D, et al. Cancer screening in the United States, 2017: a review of current American Cancer Society guidelines and current issues in cancer screening. CA Cancer J Clin 2017;67:100-121.
10. El-Shami K, Oeffinger KC, Erb NL, et al. American Cancer Society colorectal cancer survivorship care guidelines. CA Cancer J Clin 2015;65:428-455.
11. Children's Oncology Group. Long-term follow-up guidelines for survivors of childhood, adolescent, and young adult cancer, version 4.0. October 2013 (http://www.survivorshipguidelines.org/pdf/LTFUGuidelines_40.pdf).
12. Jaklitsch MT, Jacobson FL, Austin JH, et al. The American Association for Thoracic Surgery guidelines for lung cancer screening using low-dose computed tomography scans for lung cancer survivors and other high-risk groups. J Thorac Cardiovasc Surg 2012;144:33-38.
13. Albers P, Albrecht W, Algaba F, et al. EAU guidelines on testicular cancer: 2011 update. Eur Urol 2011;60:304-319.
14. Salani R, Backes FJ, Fung MF, et al. Posttreatment surveillance and diagnosis of recurrence in women with gynecologic malignancies: Society of Gynecologic Oncologists recommendations. Am J Obstet Gynecol 2011;204:466-478.
15. Phillips T, Mercer J. Surveillance scans in lymphoma: friend or foe? Curr Treat Options Oncol 2017;18:10-10.
16. Shanklin VE, Snowden JA, Greenfield DM. Late treatment effects following bone marrow transplant: efficacy of implementing international guidelines. Eur J Cancer Care (Engl) 2018;27(2):e12623-e12623.
17. Tomlinson JS, Jarnagin WR, DeMatteo RP, et al. Actual 10-year survival after resection of colorectal liver metastases defines cure. J Clin Oncol 2007;25:4575-4580.
18. Araujo RL, Gönen M, Herman P. Chemotherapy for patients with colorectal liver metastases who underwent curative resection improves long-term outcomes: systematic review and meta-analysis. Ann Surg Oncol 2015;22:3070-3078.
19. Schaapveld M, Aleman BMP, van Eggermond AM, et al. Second cancer risk up to 40 years after treatment for Hodgkin's lymphoma. N Engl J Med 2015;373:2499-2511.
20. Hodgson DC, Cotton C, Crystal P, Nathan PC. Impact of early breast cancer screening on mortality among young survivors of childhood Hodgkin's lymphoma. J Natl Cancer Inst 2016;108(7).
21. Paice JA, Portenoy R, Lacchetti C, et al. Management of chronic pain in survivors of adult cancers: American Society of Clinical Oncology clinical practice guideline. J Clin Oncol 2016;34:3325-3345.
22. Vassilakopoulou M, Boostandoost E, Papaxoinis G, de La Motte Rouge T, Khayat D, Psyrri A. Anticancer treatment and fertility: effect of therapeutic modalities on reproductive system and functions. Crit Rev Oncol Hematol 2016;97:328-334.
23. Brydøy M, Fosså SD, Dahl O, Bjøro T. Gonadal dysfunction and fertility problems in cancer survivors. Acta Oncol 2007;46:480-489.
24. Chemaitilly W, Hudson MM. Update on endocrine and metabolic therapy-related late effects observed in survivors of childhood neoplasia. Curr Opin Endocrinol Diabetes Obes 2014;21:71-76.
25. Marino JL, Saunders CM, Emery LI, Green H, Doherty DA, Hickey M. Nature and severity of menopausal symptoms and their impact on quality of life and sexual function in cancer survivors compared with women without a cancer history. Menopause 2014;21:267-274.
26. Hunter MS, Stefanopoulou E. Vasomotor symptoms in prostate cancer survivors undergoing androgen deprivation therapy. Climacteric 2016;19:91-97.
27. Hershman DL, Lacchetti C, Dworkin RH, et al. Prevention and management of chemotherapy-induced peripheral neuropathy in survivors of adult cancers: American Society of Clinical Oncology clinical practice guideline. J Clin Oncol 2014;32:1941-1967.
28. Bower JE, Bak K, Berger A, et al. Screening, assessment, and management of fatigue in adult survivors of cancer: an American Society of Clinical oncology clinical practice guideline adaptation. J Clin Oncol 2014;32:1840-1850.
29. Davis MP, Goforth HW. Long-term and short-term effects of insomnia in cancer and effective interventions. Cancer J 2014;20:330-344.
30. Carter J, Lacchetti C, Andersen BL, et al. Interventions to address sexual problems in people with cancer: American Society of Clinical Oncology clinical practice guideline adaptation of Cancer Care Ontario guideline. J Clin Oncol 2018;36:492-511.
31. Casco S, Soto-Vega E. Development of metabolic syndrome associated to cancer therapy: review. Horm Cancer 2016;7:289-295.
32. Lustberg MB, Reinbolt RE, Shapiro CL. Bone health in adult cancer survivorship. J Clin Oncol 2012;30:3665-3674.
33. Bernstein LJ, McCreath GA, Komeylian Z, Rich JB. Cognitive impairment in breast cancer survivors treated with chemotherapy depends on control group type and cognitive domains assessed: a multilevel meta-analysis. Neurosci Biobehav Rev 2017;83:417-428.
34. Armenian SH, Lacchetti C, Barac A, et al. Prevention and monitoring of cardiac dysfunction in survivors of adult cancers: American Society of Clinical Oncology clinical practice guideline. J Clin Oncol 2017;35:893-911.
35. Spetz J, Moslehi J, Sarosiek K. Radiation-induced cardiovascular toxicity: mechanisms, prevention, and treatment. Curr Treat Options Cardiovasc Med 2018;20:31-31.
36. Conway A, McCarthy AL, Lawrence P, Clark RA. The prevention, detection and management of cancer treatment-induced cardiotoxicity: a meta-review. BMC Cancer 2015;15:366-366.
37. Fisher B, Costantino JP, Redmond CK, Fisher ER, Wickerham DL, Cronin WM. Endometrial cancer in tamoxifen-treated breast cancer patients: findings from the National Surgical Adjuvant Breast and Bowel Project (NSABP) B-14. J Natl Cancer Inst 1994;86:527-537.
38. Radivoyevitch T, Sachs RK, Gale RP, et al. Defining AML and MDS second cancer risk dynamics after diagnoses of first cancers treated or not with radiation. Leukemia 2016;30:285-294.
39. Singh GK, Yadav V, Singh P, Bhowmik KT. Radiation-induced malignancies making radiotherapy a "two-edged sword": a review of literature. World J Oncol 2017;8:1-6.
40. Inskip PD, Sigurdson AJ, Veiga L, et al. Radiation-related new primary solid cancers in the childhood cancer survivor study: comparative radiation dose response and modification of treatment effects. Int J Radiat Oncol Biol Phys 2016;94:800-807.
41. Hurria A, Jones L, Muss HB. Cancer treatment as an accelerated aging process: assessment, biomarkers, and interventions. Am Soc Clin Oncol Educ Book 2016;35:e516-e522.
42. Henderson TO, Ness KK, Cohen HJ. Accelerated aging among cancer survivors: from pediatrics to geriatrics. Am Soc Clin Oncol Educ Book 2014;34:e423-e430.
43. Hertoghe T. The "multiple hormone deficiency" theory of aging: is human senescence caused mainly by multiple hormone deficiencies? Ann N Y Acad Sci 2005;1057:448-465.
44. Oeffinger KC, Mertens AC, Sklar CA, et al. Chronic health conditions in adult survivors of childhood cancer. N Engl J Med 2006;355:1572-1582.
45. Shapiro CL, Recht A. Side effects of adjuvant treatment of breast cancer. N Engl J Med 2001;344:1997-2008.
46. Woo J. Sarcopenia. Clin Geriatr Med 2017;33:305-314.
47. Xiao DY, Luo S, O'Brian K, et al. Longitudinal body composition changes in diffuse large B-cell lymphoma survivors: a retrospective cohort study of United States Veterans. J Natl Cancer Inst 2016;108(11):djw145-djw145.
48. Ligibel JA, Alfano CM, Courneya KS, et al. American Society of Clinical Oncology position statement on obesity and cancer. J Clin Oncol 2014;32:3568-3574.
49. Burke S, Wurz A, Bradshaw A, Saunders S, West MA, Brunet J. Physical activity and quality of life in cancer survivors: a meta-synthesis of qualitative research. Cancers (Basel) 2017;9(5):E53-E53.
50. Schwedhelm C, Boeing H, Hoffmann G, Aleksandrova K, Schwingshackl L. Effect of diet on mortality and cancer recurrence among cancer survivors: a systematic review and meta-analysis of cohort studies. Nutr Rev 2016;74:737-748.
51. Ramaswamy AT, Toll BA, Chagpar AB, Judson BL. Smoking, cessation, and cessation counseling in patients with cancer: a population-based analysis. Cancer 2016;122:1247-1253.
52. LoConte NK, Brewster AM, Kaur JS, Merrill JK, Alberg AJ. Alcohol and cancer: a statement of the American Society of Clinical Oncology. J Clin Oncol 2018;36:83-93.
53. Chlebowski RT, Reeves MM. Weight loss randomized intervention trials in female cancer survivors. J Clin Oncol 2016;34:4238-4248.
54. Yi JC, Syrjala KL. Anxiety and depression in cancer survivors. Med Clin North Am 2017;101:1099-1113.
55. Hahn EE, Hays RD, Kahn KL, Litwin MS, Ganz PA. Post-traumatic stress symptoms in cancer survivors: relationship to the impact of cancer scale and other associated risk factors. Psychooncology 2015;24:643-652.
56. Cupit-Link M, Syrjala KL, Hashmi SK. Damocles' syndrome revisited: update on the fear of cancer recurrence in the complex world of today's treatments and survivorship. Hematol Oncol Stem Cell Ther 2018;11:129-134.
57. Sun Y, Shigaki CL, Armer JM. Return to work among breast cancer survivors: a literature review. Support Care Cancer 2017;25:709-718.
58. Aaronson NK, Mattioli V, Minton O, et al. Beyond treatment — psychosocial and behavioural issues in cancer survivorship research and practice. EJC Suppl 2014;12:54-64.
59. Holland JC, Bultz BD. The NCCN guideline for distress management: a case for making distress the sixth vital sign. J Natl Compr Canc Netw 2007;5:3-7.
60. Fried TR, Bradley EH, Towle VR, Allore H. Understanding the treatment preferences of seriously ill patients. N Engl J Med 2002;346:1061-1066.
61. Loh KP, Soto-Perez-de-Celis E, Hsu T, et al. What every oncologist should know about geriatric assessment for older patients with cancer: Young International Society of Geriatric Oncology position paper. J Oncol Pract 2018;14:85-94.
62. Ward E, DeSantis C, Robbins A, Kohler B, Jemal A. Childhood and adolescent cancer statistics, 2014. CA Cancer J Clin 2014;64:83-103.
63. Robison LL, Hudson MM. Survivors of childhood and adolescent cancer: life-long risks and responsibilities. Nat Rev Cancer 2014;14:61-70.
64. McCarthy MC, Campo M, Drew SE. Pediatric oncology survivorship: conveying risks and communicating information at the right time for the individual. Curr Opin Support Palliat Care 2013;7:289-295.
65. Overholser L, Kilbourn K, Liu A. Survivorship issues in adolescent and young adult oncology. Med Clin North Am 2017;101:1075-1084.
66. Golant M, Haskins NV. "Other cancer survivors": the impact on family and caregivers. Cancer J 2008;14:420-424.
67. Girgis A, Lambert S, Johnson C, Waller A, Currow D. Physical, psychosocial, relationship, and economic burden of caring for people with cancer: a review. J Oncol Pract 2013;9:197-202.
68. Caregiving in the U.S.: executive summary. Bethesda, MD: National Alliance for Caregivers, June 2015.
69. Waldron EA, Janke EA, Bechtel CF, Ramirez M, Cohen A. A systematic review of psychosocial interventions to improve cancer caregiver quality of life. Psychooncology 2013;22:1200-1207.
70. Kim Y, Shaffer KM, Carver CS, Cannady RS. Quality of life of family caregivers 8 years after a relative's cancer diagnosis: follow-up of the National Quality of Life Survey 71. McCabe MS, Bhatia S, Oeffinger KC, et al. American Society of Clinical Oncology statement: achieving high-quality cancer survivorship care. J Clin Oncol 2013;31:631-640.
72. Earle CC, Neville BA. Under use of necessary care among cancer survivors. Cancer 2004;101:1712-1719.
73. Nekhlyudov L, O'Malley DM, Hudson SV. Integrating primary care providers in the care of cancer survivors: gaps in evidence and future opportunities. Lancet Oncol 2017;18(1):e30-e38.
74. Halpern MT, Viswanathan M, Evans TS, Birken SA, Basch E, Mayer DK. Models of cancer survivorship care: overview and summary of current evidence. J Oncol Pract 2015;11(1):e19-e27.
75. Lawrence RA, McLoone JK, Wakefield CE, Cohn RJ. Primary care physicians' perspectives of their role in cancer care: a systematic review. J Gen Intern Med 2016;31:1222-1236.
76. Rubinstein EB, Miller WL, Hudson SV, et al. Cancer survivorship care in advanced primary care practices: a qualitative study of challenges and opportunities. JAMA Intern Med 2017;177:1726-1732.
77. Frobisher C, Glaser A, Levitt GA, et al. Risk stratification of childhood cancer survivors necessary for evidence-based clinical long-term follow-up. Br J Cancer 2017;117:1723-1731.
78. Shalom MM, Hahn EE, Casillas J, Ganz PA. Do survivorship care plans make a difference? A primary care provider perspective. J Oncol Pract 2011;7:314-318.
79. van de Poll-Franse LV, Nicolaije KA, Ezendam NP. The impact of cancer survivorship care plans on patient and health care provider outcomes: a current perspective. Acta Oncol 2017;56:134-138.
80. Mayer DK, Birken SA, Check DK, Chen RC. Summing it up: an integrative review of studies of cancer survivorship care plans (2006-2013). Cancer 2015;121:978-996.
81. Halpern MT, Argenbright KE. Evaluation of effectiveness of survivorship programmes: how to measure success? Lancet Oncol 2017;18(1):e51-e59.
82. Gilligan T, Coyle N, Frankel RM, et al. Patient-clinician communication: American Society of Clinical Oncology consensus guideline. J Clin Oncol 2017;35:3618-3632.
83. Hershman DL, Shao T, Kushi LH, et al. Early discontinuation and non-adherence to adjuvant hormonal therapy are associated with increased mortality in women with breast cancer. Breast Cancer Res Treat 2011;126:529-537.
84. Nyrop KA, Callahan LF, Rini C, et al. Aromatase inhibitor associated arthralgia: the importance of oncology provider-patient communication about side effects and potential management through physical activity. Support Care Cancer 2016;24:2643-2650.
85. Jung B, Stoll C, Feick G, et al. Prostate cancer patients' report on communication about endocrine therapy and its association with adherence. J Cancer Res Clin Oncol 2016;142:465-470.